Traditional sauerkraut stew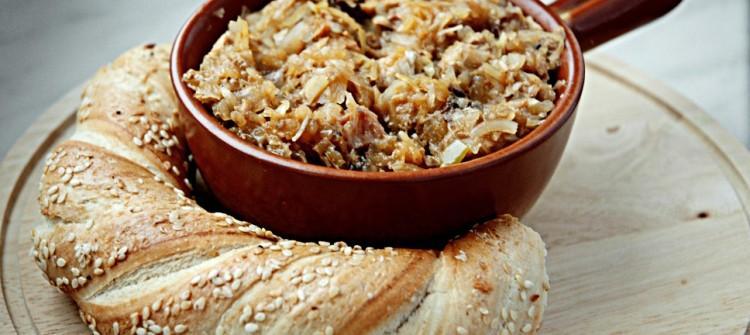 Ingredients: 2 jars of Dagoma sauerkraut with carrot, 2 finely chopped onions, 2 spoons of oil, 1 regular, sliced sausage, 250 grams of boneless beef, 100 grams of diced bacon, 150 ml of red wine, 3 spoons of tomato concentrate, a handful of dried mushrooms 1/2 handful of dried plums, 2 bay leaves, a few grains of allspice, 1 spoon of marjoram, salt and pepper for flavour.
Preparation: Put the cabbage into a large pot and pour in hot water, add plums, bay leaves and allspice. Stew until softening (about 50 minutes). In the meantime, add hot water to the dried mushrooms in a small pot. Put them aside. Fry the onion until it is glazed. Add sausage to the glazed onion and fry until browning. Boil approx. 1 liter of water in a separate pot. Add the beef, veal and bacon to the boiling water. Boil for about 20 minutes, afterwards drain the meat. When the cabbage is soft, add the (drained and finely chopped) mushrooms, meat and onion with sausage. Allow it to simmer without a cover for 20 minutes. If there is too much water, it should be drained. Pour in the red wine and boil for another 15 minutes. Add marjoram, caraway, salt and pepper for flavour. Add in the tomato paste and heat the whole stew while stirring. If the sauerkraut stew is too dry, add in the water from the mushrooms. If you want the sauerkraut stew to taste better, it can be further stewed on a small flame for another hour. Please pay attention however, that it does not stick to the pot and stir occasionally, adding water from the mushrooms, if it becomes too dry.